The Powder - Enzyme Exfoliant
Dealing with dark spots or dull, congested, sensitive skin? Brighten your complexion with our powder-to-cream exfoliation treatment.

Natural enzymes to gently polish
Unique blend to dissolve the bonds between dead skin cells
Smooth skin bumps and de-clog pores & blackheads
Clinically-proven to reduce the appearance of pigmentation
Long-lasting, up to 60 uses per bottle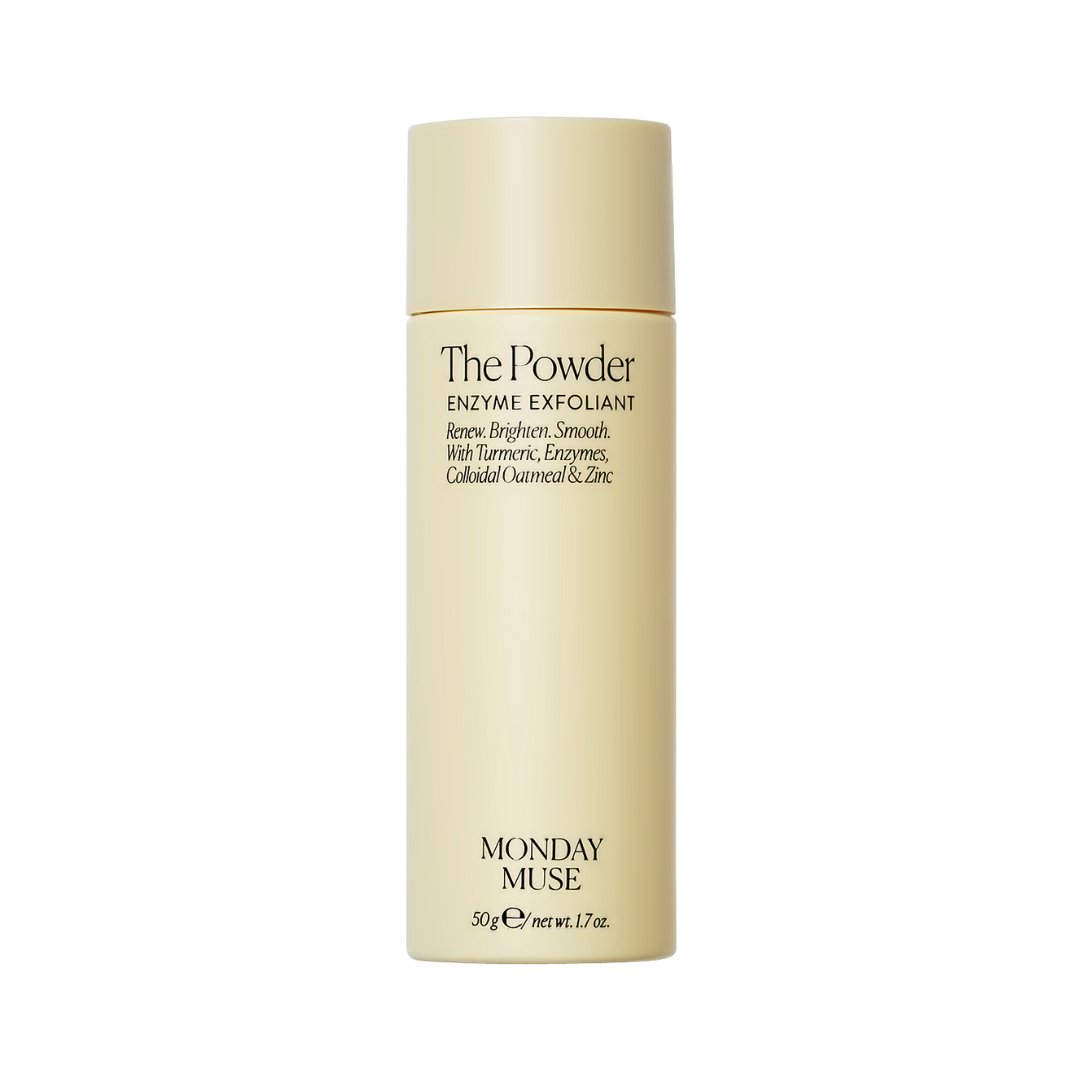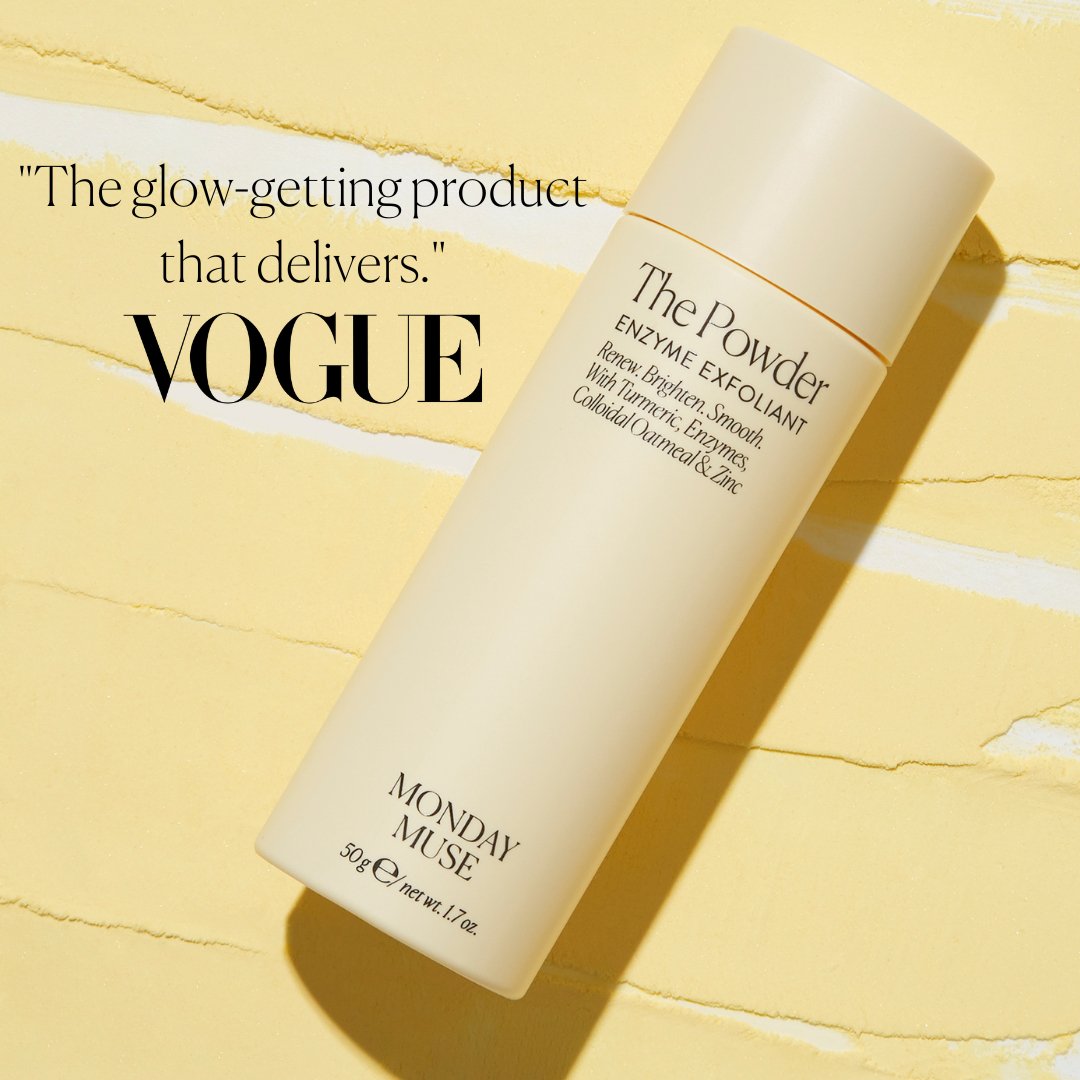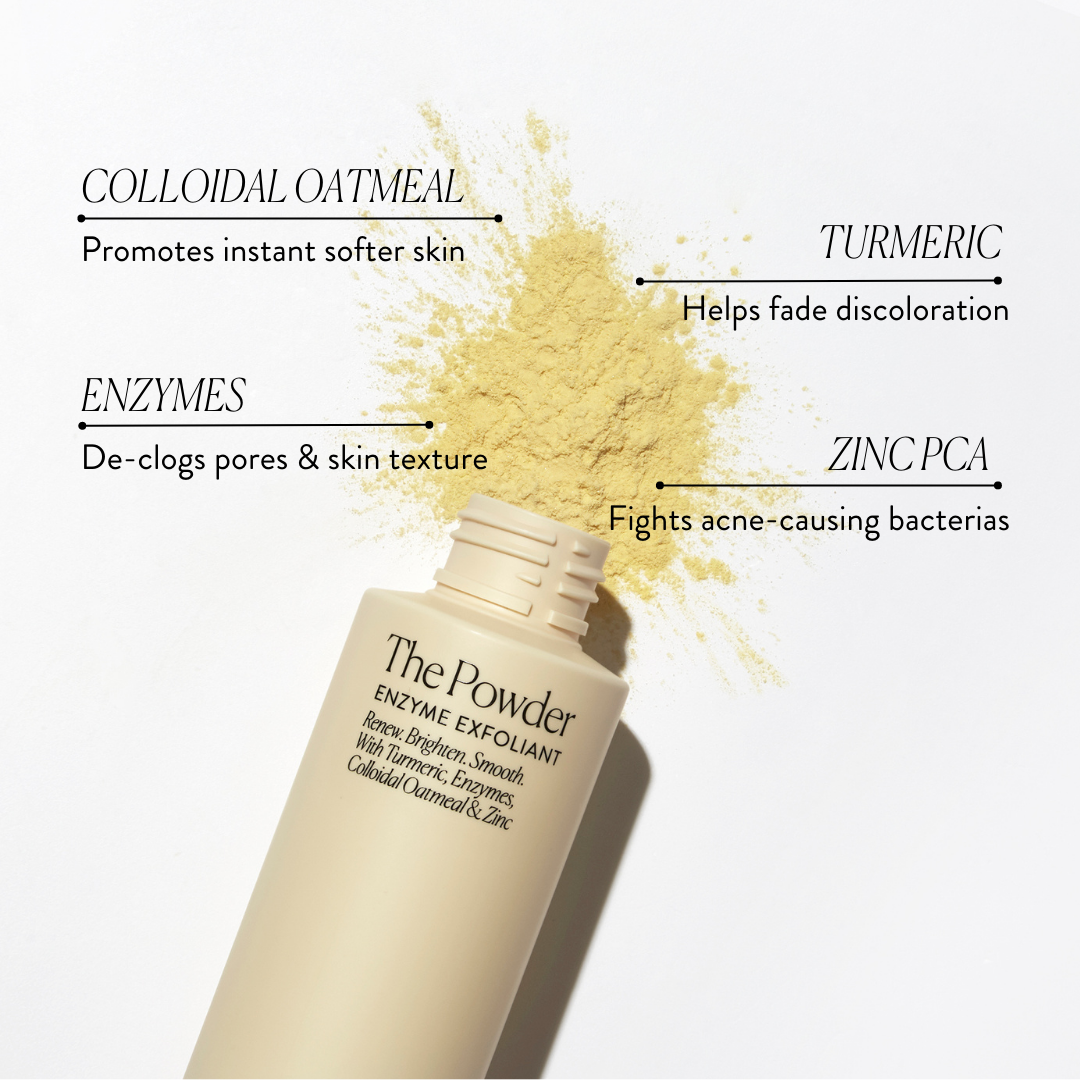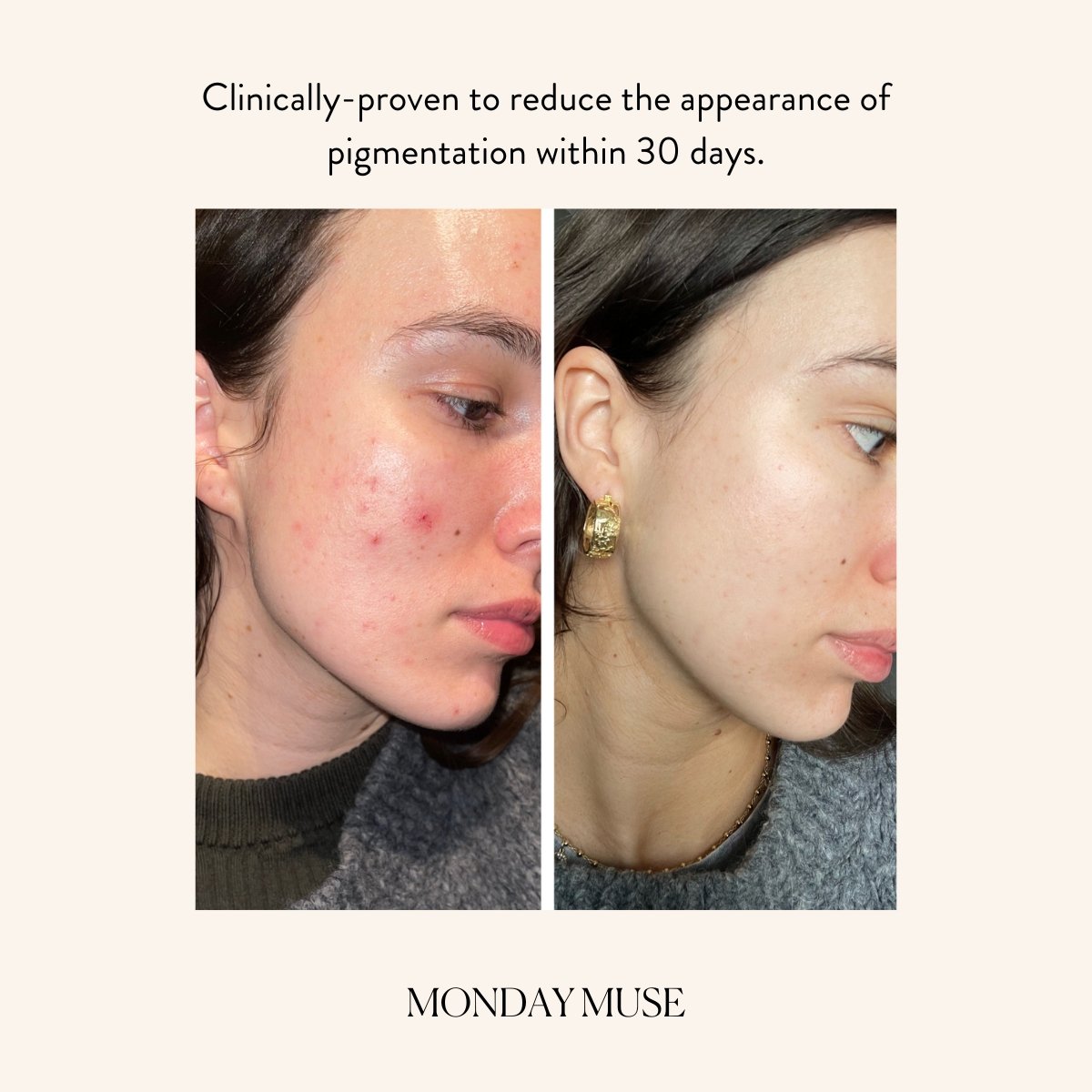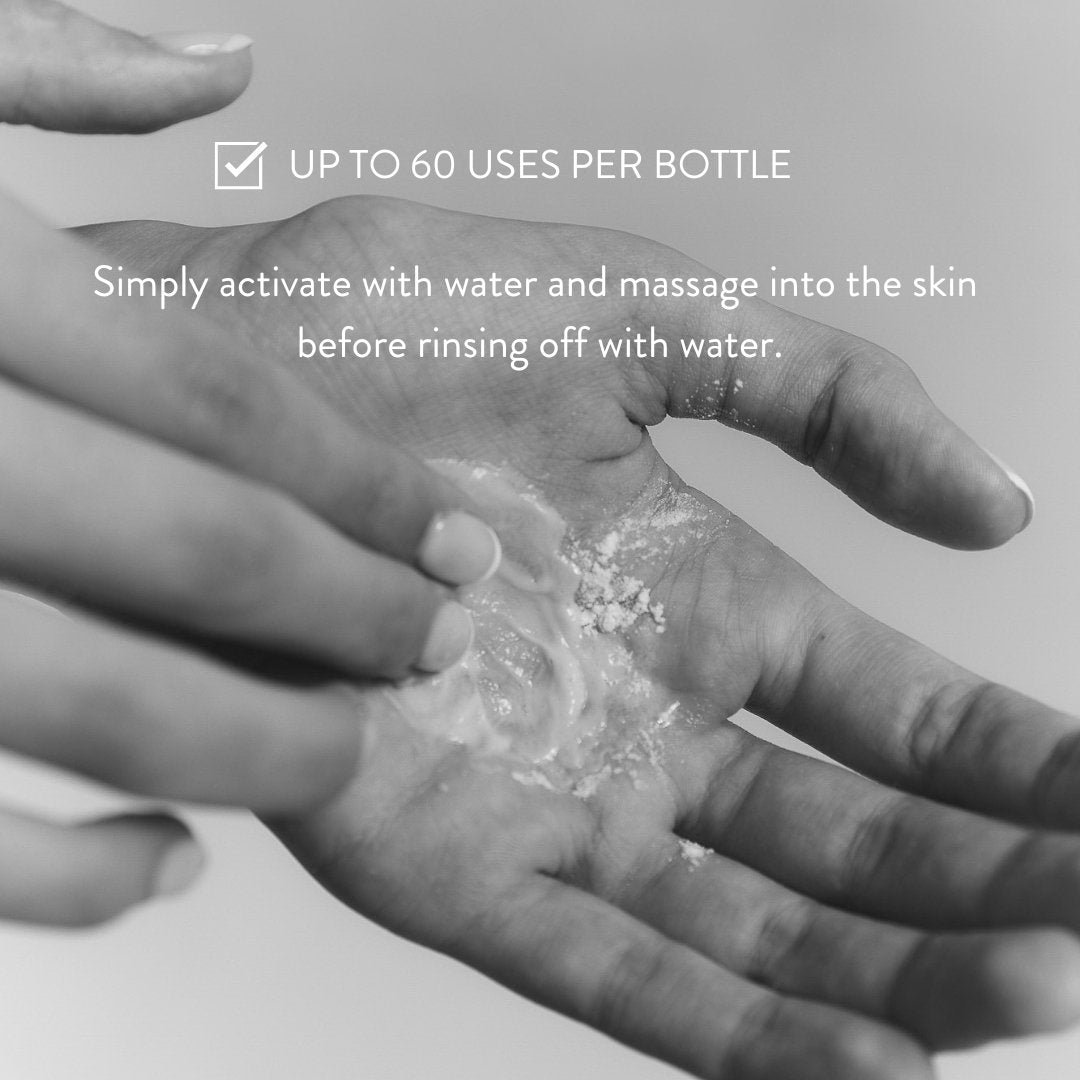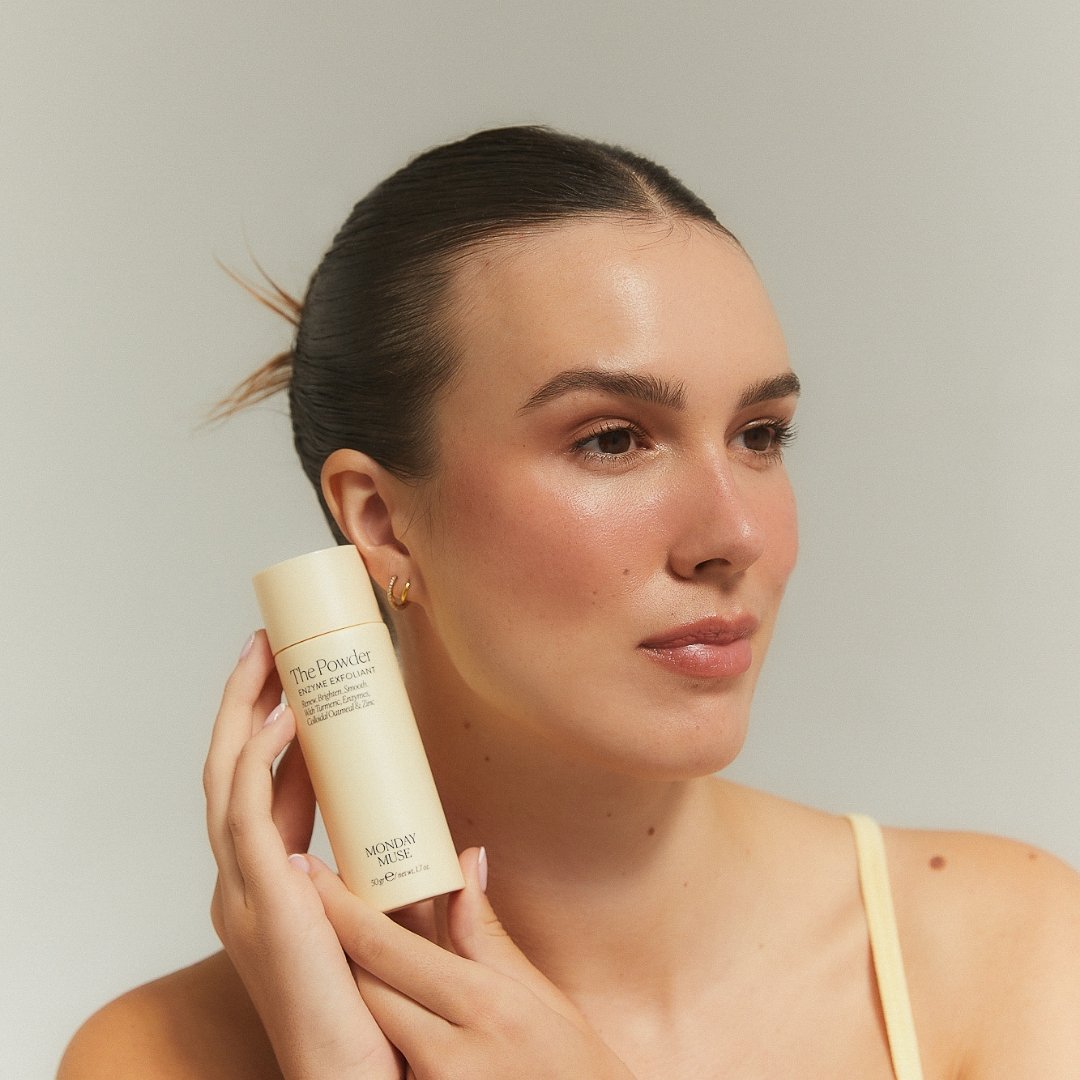 HOW DOES IT WORK
BEST IN CLASS INGREDIENTS
HOW TO USE
HOW DOES IT WORK

Unlike physical exfoliants, such as scrubs, which physically remove dead skin cells through abrasion, the process of enzymatic exfoliation is gentle and selective. It primarily affects dead or damaged skin cells, leaving the healthy, living cells untouched. This makes enzymes a suitable exfoliation option for individuals with sensitive or easily irritated skin.

6 Benefits of The Powder:

1. Gentleness: Enzymatic exfoliation is generally milder than other exfoliation methods, making it less likely to cause redness, irritation, or over-exfoliation.

2. Even Skin Tone: Enzymes and Turmeric help remove the buildup of dead skin cells which helps uneven pigmentation, sun spots and post-inflammatory hyperpigmentation.

3. Improved Texture: By removing the outer layer of dead skin cells, you reveal the healthier, fresher skin underneath.

4. Unclogging Pores: Enzymes and Zinc help unclog and refine pores by removing debris and excess oil. This can be especially beneficial for those prone to acne or blackheads.

5. Enhanced Product Absorption: When the surface layer of dead skin cells is removed, skincare products, such as serums and moisturisers, can penetrate the skin more effectively, increasing their efficacy.

6. Reduced Signs of Aging: Enzymatic exfoliation can diminish the appearance of fine lines and wrinkles over time by encouraging the production of new, healthier skin cells.
BEST IN CLASS INGREDIENTS

Tapioca Starch

Derived from the Cassava plant, this is a 100% natural, ultra-fine base is a non-talc alternative that

helps absorb excess oils

.

Colloidal Oatmeal

Oats are known for their soothing and reparative properties, which

relieves inflamed skin

whilst also providing adequate moisturising.

Enzymes: Protease and Lipase

Enzymes help break down keratin proteins and lipids from the surface of the skin to

remove dead skin cells, visibily improving dull, flaky or clogged skin

.

Turmeric

The golden spice Turmeric is used for its anti-inflammatory properties, promoting wound healing and

helps to lighten pigmentation

.

Zinc PCA

A mineral that helps normalise sebum production and

limits bacterial colonisation on blemish-prone skin

.

Full Ingredients

Tapioca Starch, Perlite, Aqua (Water), Aluminum Starch Octenylsuccinate, Sodium Cocoyl Glutamate, Xanthan Gum, Maltodextrin, Avena Sativa (Oat) Kernel Flour, Lipase, Protease, Zinc PCA, Curcuma Longa (Turmeric) Root Extract, Sodium Dehydroacetate, Acacia Senegal Gum.
HOW TO USE

Add a dime-sized amount to the palm of your hand and add a few drops of water to activate the powder into a thin creamy liquid. Massage into the skin for a minute and rinse off thoroughly with tepid water or a muslin cloth. Use 1-4 times a week.

Tip: Mix The Powder together with The Cleanser as a flash mask for a few minutes.

Patch testing is always recommended.
Clinical Results
The Powder was clinically tested by an independent lab and these are the results:
30 days

is the time it took to see results

3 x

Is the number of times it was used a week

Appearance of Pigmentation

Is visibly reduced
Real People, Real Results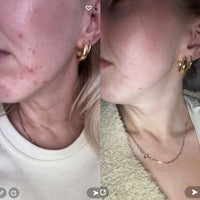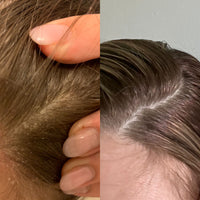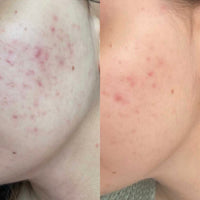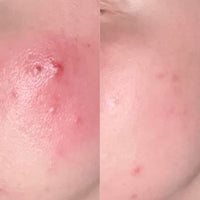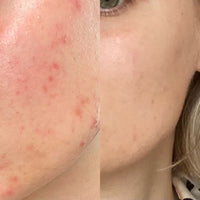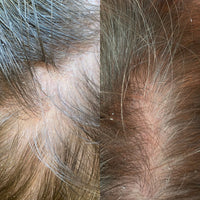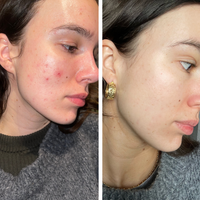 Clinically-backed Botanicals

Made for Temperamental Skin
Sensitive skin approved!!!
I struggle with sensitive combination skin and often have a build up of dry skin which turns oily then into spots. It's so tricky to manage when your skin is sensitive to alot of different products.
From the first use this powder helped so much! It made my skin feel really smooth, fresh and made my makeup go on perfectly.
Gentle & Effective
I have Rosacea and exfoliating is something I have to be careful about. Yet this lovely and gentle exfoliant does the trick. It's effective while not causing any irritation, as long as you don't overdo it. I mix it with the cleanser (also Monday Muse) and that is the best way for me to use it.
Lovely product
This is such a nice gentle exfoliant. As for results it's too early to tell but I'm enjoying adding this wash to my daily routine 😊
Works for Sensitive Skin!
I have perioral dermatitis, which is a tricky skin condition to manage. There are very few products that I can use that don't cause flare ups, and my skin hates salicylic acid. While I found a gentle cleanser and moisturizer that work for me and my dermatitis was mostly under control with the support of a couple of prescriptions, I was still struggling with skin congestion. This product is the answer and it's the only exfoliant that I can use! It does not irritate my dermatitis and my skin feels smoother, softer, and less congested. I'm not sure about fading hyperpigmentation yet, but fingers crossed.
Monday Muse is amazing!
My skin has never been so glowy and clear before. My friends and family have been complementing my face since I started using it.
FAQs
Why do I need an exfoliant like The Powder in my routine?

The shedding of the dead cells is vital to our skin health. Factors like ageing and the environment can cause this process to slow down.

When this happens, it causes a build-up of dead skin cells; this appears in the form of dullness, textured skin and uneven skin tone. So it's important to exfoliate the skin and ensure we are aiding this process. It will also help your other products absorb better into the skin.
My skin is sensitive and I am worried about using exfoliants - can I use this? 

If your skin is prone to sensitivity, enzymes are a great option!

Enzymes work without disrupting your skin's microbiome, which means they're unlikely to irritate or sensitise the skin compared to traditional exfoliants, like acids (AHAs, BHAs etc). Enzymes act like little pac men on the skin; they break down the bonds between dead cells, allowing them to be easily slewed off, leaving the skin feeling smoother. This product targets texture, congestion, flaking, dead skin cell build-up, dryness and early signs of ageing.

It is also a wash-off product, so you have more control over the application process and makes it a better alternative to those with reactive skin.

If you are still worried, you can dilute a bit of the powder with your favourite cleanser, mix it together and experience an even milder exfoliation.
How is The Powder a more gentle alternative to other exfoliants?

The Powder has a unique base of tapioca starch and colloidal oatmeal which are included ultra-fine ingredients to ensure a non-abrasive feel on the skin to minimise the risk of irritation. In addition, enzymes are known to be one of the most gentle forms of exfoliation.

If you have a history of sensitivity to exfoliants, we recommend patch testing and starting slowly. Start by mixing it in with your favourite cleanser to dilute the enzymatic action.
Can I use this alongside AHAs, BHAs, and retinoids?

You can use The Powder if you use a retinoid or similar treatment, however, we recommend that they are used on alternative nights and not on the same day. Though exfoliation is very beneficial to the skin; it promotes cell turnover, allowing dead skin to shed and new healthy skin to come toward the surface, over-exfoliating is easily done and negatively impacts the skin. Over-exfoliation can strip the barrier, leaving it sensitive and vulnerable to inflammation and redness.
What about shipping?

UK Shipping

All orders are shipped with Royal Mail 2nd Class (2-3 days): £2.99 Free shipping for orders over £45.

International Shipping US - All orders are tracked (7-10 days): £9-13.

Free US Shipping over £100.

EU - All orders are tracked (5-7 days): from £5.

Free shipping for orders over £50

Rest of World - All orders are tracked: £10-15.

Please note that delivery times may vary.
Is this product pregnancy-safe?

Use collapsible tabs for more detailed information that will help customers make a purchasing decision.

Ex: Shipping and return policies, size guides, and other common questions.