THE JUICE - Daily Serum
Dull, dehydrated & blemish-prone skin? Our 3-in-1 daily serum contains a powerful blend of clinically-backed ingredients that is designed to hydrate, strengthen and gently clarify the skin.
Boosts hydration levels for plump skin
Helps minimise the appearance of pores
Fades discoloration and balance uneven tone
Blemish-reducing with naturally-clarifying complex
Gentle alternative to prevent future breakouts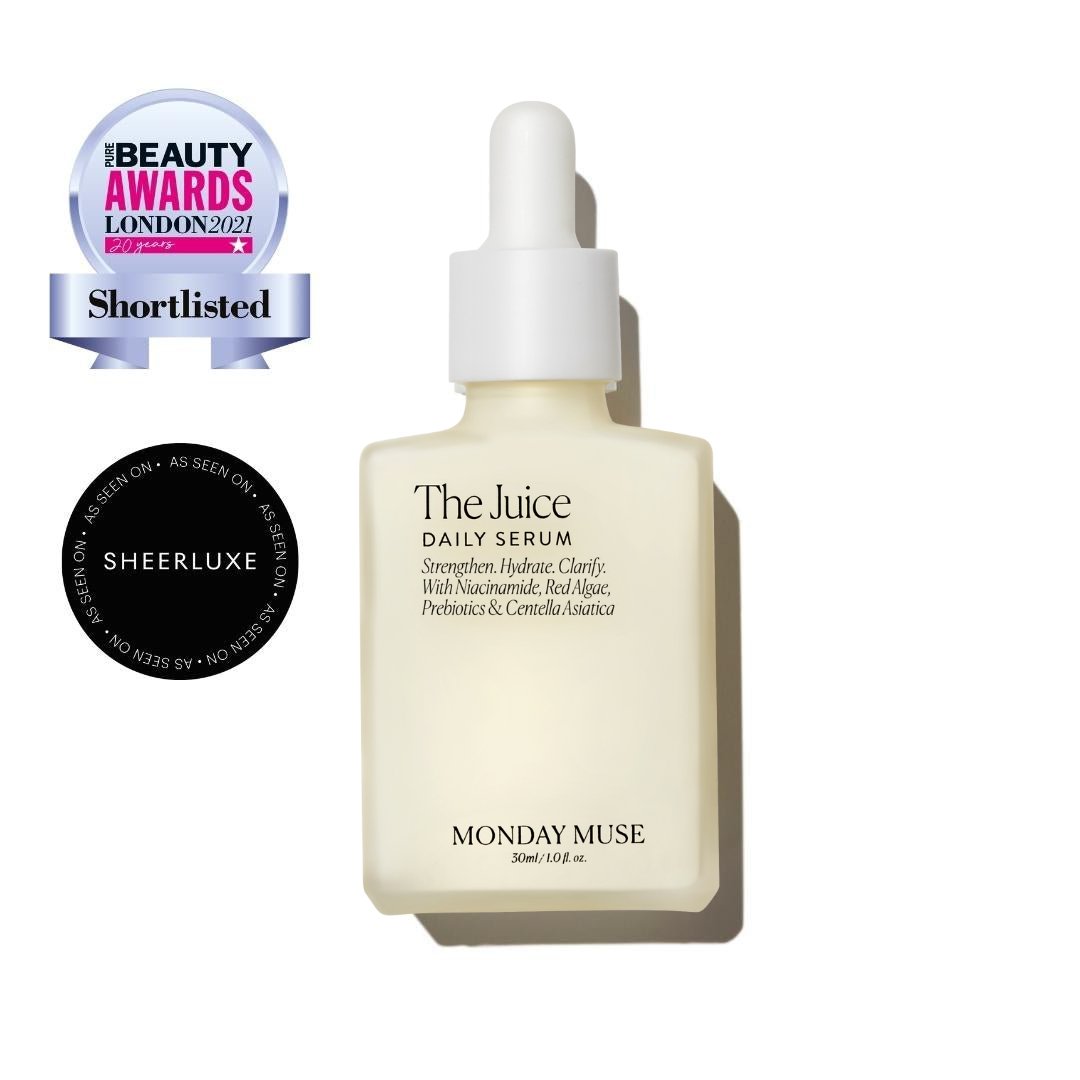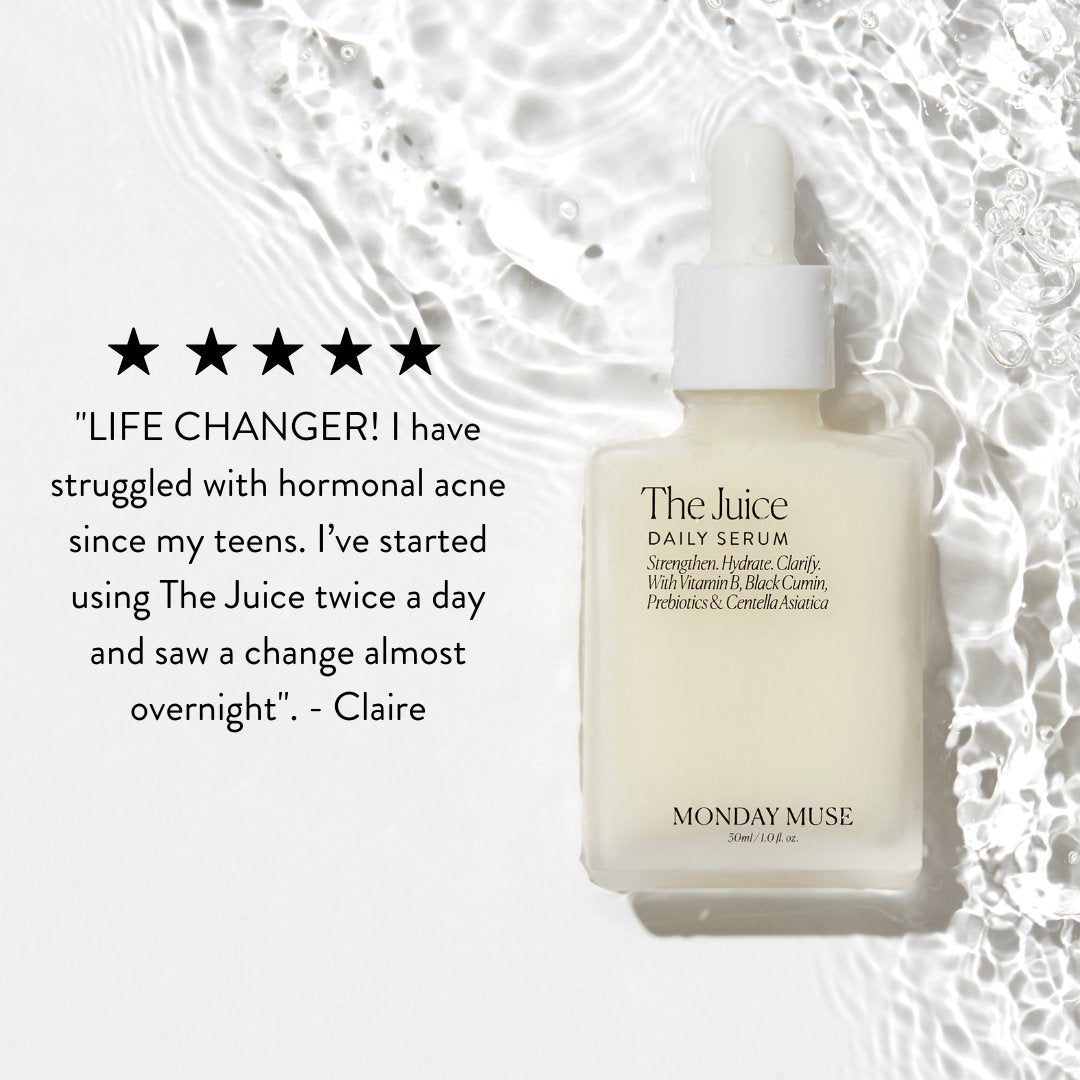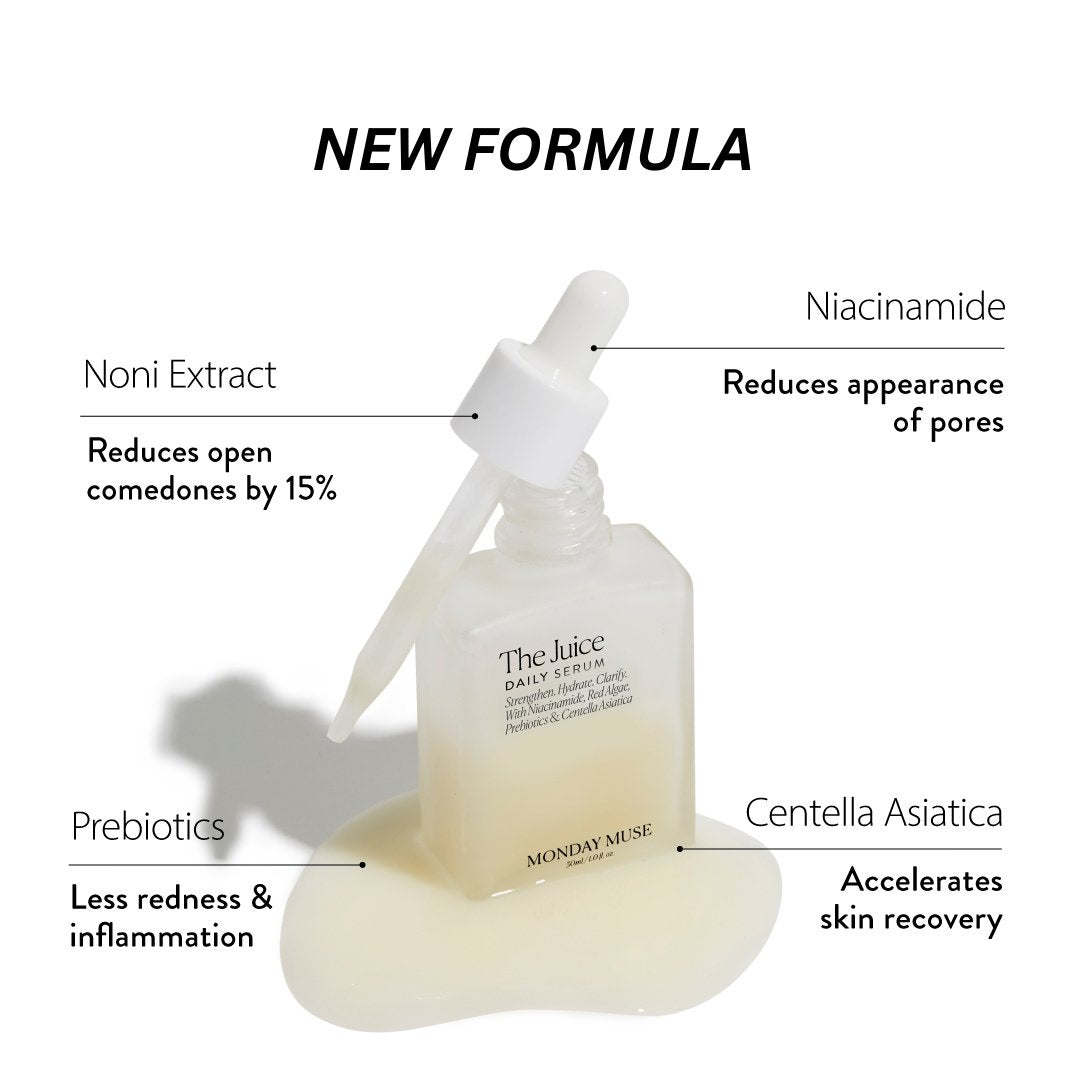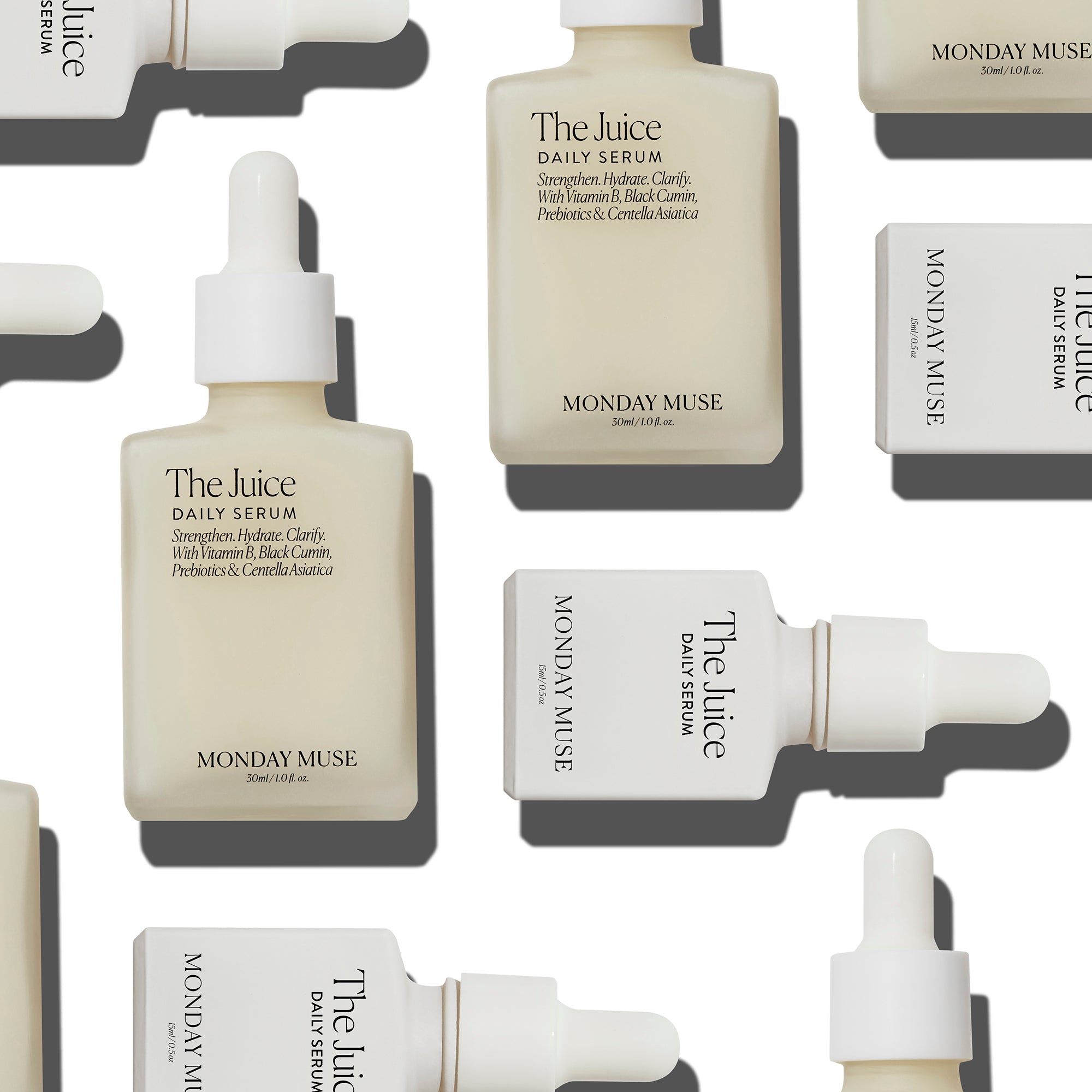 HOW DOES IT WORK
BEST IN CLASS INGREDIENTS
HOW TO USE
HOW DOES IT WORK

A gentler alternative to strong anti-acne solutions that can cause dryness, redness and irritation. The Juice is a weightless milky serum that quenches the skin instantly whilst also encouraging a clear complexion, preventing future breakouts, inflammation, whilst promoting a healthy skin barrier. Our skin barrier is the first line of defence so the stronger it is, the less likely it's prone to inflammation and breakouts.

5 Benefits of The Juice

1. Blemish reducing: Our Noni extract has been clinically shown to clarify the skin whilst not drying it out. It combats acne-causing bacterias whilst supporting the skin's natural microbiome.

2. Minimising Appearance of Pores: Vitamins B3 (niacinamide) and B5 are known for their ability to minimise the appearance of pores. Niacinamide, in particular, helps regulate sebum production, which can lead to smaller, less noticeable pores.

3. Protection and Hydration: Centella Asiatica, Red Algae, and Prebiotics work together to provide protection and hydration to the skin. They help create a barrier that locks in moisture and shields the skin from external irritants, such as pollution and UV rays.

4. Fading Dark Spots: The same vitamins, B3 (niacinamide) and B5, also have skin-brightening properties. They can help fade dark spots and pigmentation irregularities over time, leading to a more even skin tone.

5. Reduced Irritation: Our gentle serum is less likely to cause irritation or exacerbate existing skin sensitivities, making it a better choice for those with sensitive or easily irritated skin.
BEST IN CLASS INGREDIENTS

Noni Extract

A gentle, plant-based clarifying powerhouse. Derived from the Morinda Citrifolia tree, an in vivo study showed that it

balances sebum production

whilst

reducing the appearance of pores up to 48% and open comedones by 15%

in 30 days.

Niacinamide

Niacinamide (5%) is a powerhouse vitamin that helps

reduce the appearance of pores, fades dark spots, evens out textured skin, and even stimulates collagen synthesis.

One of our all-time favourite ingredients.

Centella Asiatica

Wild-harvested in Madagascar, we source a Centella Asiatica extract that is one of the purest forms for the highest-efficacy. It is a skin antioxidant that

helps improve firmness, elasticity and also speeds up wound healing.

Prebiotics

Extracted from the chicory root, Prebiotics help balance and strengthen the skin's natural microbiome which in turn can

reduce redness, inflammation and signs of ageing.

Red Marine Algae

Red Marine Algae is

hydrating and promotes skin recovery

and stimulates ceramide synthesis within the skin to help maintain a strong skin barrier.

Full Ingredients:

Aqua (Water), Niacinamide, Propanediol, Cannabis Sativa (hemp) Seed Oil, Glycerin, Plukenetia Volubilis (sacha inchi) Seed Oil, Panthenol, Inulin, Saccharide Isomerate, Maltodextrin, Lysolecithin, Sclerotium Gum, Morinda Citrifolia Callus (Noni) Culture Lysate, Tocopherol, Lithothamnium Calcareum (Red Algae) Extract, Centella Asiatica Leaf Extract, Sodium Gluconate, Xanthan Gum, Pullulan, Salicylic Acid, Amylopectin, Pentylene Glycol, Fructose, Biosaccharide Gum-1, Citric Acid, Sodium Hydroxide, Sorbic Acid, Silica, Potassium Sorbate, Sodium Benzoate, Lactic Acid, Sodium Citrate, Benzyl Alcohol.
HOW TO USE

Apply a few drops of serum to hands and gently pat into the skin. Let a thin layer of the product sink into the skin before moving on to the next step of your skincare routine. Can be used morning and night. Patch testing is always recommended.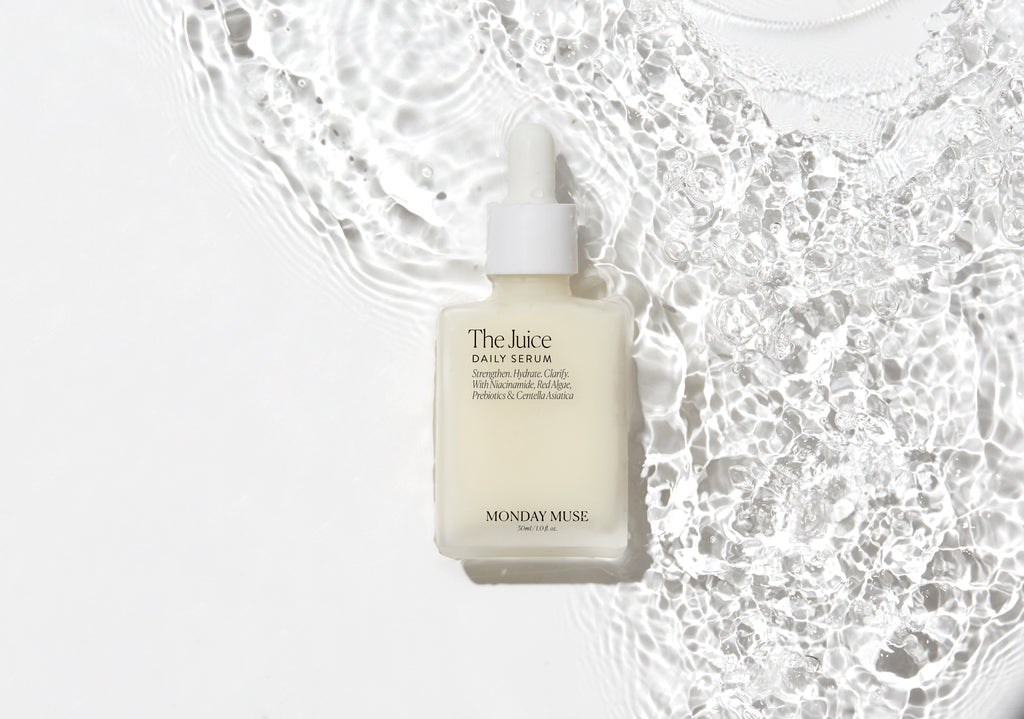 Real People, Real Results
Clinically-backed Botanicals

Made for Temperamental Skin
Excellent serum
I have been using this serum for a few months now, so long enough to know how good it is. It is very good. I am really pleased that my very sensitive, reactive skin likes this serum. Therefore I have bought the full sized version and will continue to use.
The Juice is wonderful !
Fab lightweight simple effective hydration for the skin . Loving it so far and I can really see it taming my breakouts . Also the bottle is so elegant and easy to use
A must have Serum!!!!
I've been using the serum for over a month and it has calmed my skin so much I no longer have any active pimples and my scarring is starting to heal and fade. Couldn't recommend this product enough!!!!
Nothing Else Like It
I adore this product. It really does it all for me and I haven't found anything else like it. I only wish it came in a jumbo size!!!
So hydrating, skin feels amazing!
I was really struggling with my skin, I have combination skin and struggle with acne. Nothing seemed to work.
This was the first product from this brand that I tried and it immediately made my skin feel so much calmer and hydrated.
After a few weeks of using the product my skin was noticeably clearer and just looked healthier in general.
I've now been using this product for about 3 months and will continue to.
FAQs
What is the difference between The Juice and The Nectar?

The Juice is a hydrating serum, while The Nectar is an oil. They work very well together, but they serve different purposes. You can think of The Juice as a drink of hydrating juice for the skin, while The Nectar provides healthy fats, replenishing the skin's essential fats and vitamins and restoring balance.

The Juice is a multi-functional serum that provides hydration with added nutrients to boost skin health.

The Nectar is a lightweight oil that nourishes and calms. It's ideal for very sensitive, oily/combination, or dry skin, as it works to repair and enrich the skin barrier.
Can I use The Juice alongside my other actives like Vitamin C, Retinol and exfoliating acids?

Due to The Juice's gentle formulation, it plays well with other products. It can be used every day or even just on the days when you're not using active products, such as retinoids, exfoliants, or other stronger treatments. As it contains Niacinamide 5% you don't need to use a concentrated Niacinamide booster as well, as there is such a thing as too much of a good thing.
Who is The Juice suitable for?

The Juice is suitable for all skin types. It is a delicate formula that gives even the most temperamental skin a boost of hydration whilst also keeping the skin in check. The serum is formulated without any added fragrance or essential oils, which helps to prevent the skin from being sensitised.

When introducing new products, we recommend patch testing and introducing them slowly.
Can I use The Juice even if I don't get many breakouts?

The Juice is a great product even if you don't experience acne or unusual breakouts. The Juice is microbiome-friendly, containing ingredients that aim to balance our skin whilst working to improve skin tone and texture. It contains 5% Niacinamide, which helps to visibly minimise enlarged pores, improve uneven skin tone, soften fine lines and wrinkles, and strengthen a weakened surface.
Is this product pregnancy-safe?

Yes, this naturally-derived product is safe to use during pregnany and breastfeeding.
What about shipping?

UK Shipping

All orders are shipped with Royal Mail 2nd Class (2-3 days): £2.50 Free shipping for orders over £45.

International Shipping US - All orders are tracked (7-10 days): £9-13

EU - All orders are tracked (5-7 days): from £5.

Free shipping for orders over £50

Rest of World - All orders are tracked: £10-15.

Please note that delivery times may vary.